Our special expertise gained from numerous projects in small, medium-sized and large cities regarding the planning of parking space – mostly targeted at the preparation of a parking space concept – is in demand when the traffic connection to sensitive city areas needs to be provided. The traffic demands are always a response to urban use – living, trade, handicraft, public services, culture and educational institutions.
Under consideration of the needs of all kinds of transport – individual, business, public urban transport, bike and pedestrian tracks, we develop strategies and tools to manage the parking space for the entire area by taking the particular place and case into consideration. In developing the concept of activities we pay attention to details, even labelling the particular parking areas, for example.
Our services
Parking space target concept
Parking space concepts as integral part of traffic development plans and urban master plans.

Structural analyses of space
Arrangement of land use
Socio-demographic analyses
Mobility analyses
Efficiency assessments
Master conditions regarding planning laws

Interviews
Interviews of households
Interviews of passers-by
Interviews of businesses
Interviews in running and inactive traffic
Written interviews
Interviews

Parking space ascertainments
Inspection of areas
Inspections of areas by using a video-equipped vehicle
Capturing of registration plates

Parking space offer
Design
Management
Accessibility
Location

Parking space demand
Daily time variation curve
Weekly time variation curve
Annual time variation curve
Street space
Parking bays
Car parking facilities

Parking time distribution
Number of vehicles
Parking duration
Short-term parkers
Long-term parkers
Residents
Visitors
Customers
Commuters for work or education
Commercial transport

Parking balance – analysis of the actual status
Parking space utilisation
Conflict analysis
Territorial assessment
Assessment regarding the time of day
User-specific assessment

Parking balance – Predictions
General trends
Location-related trends
Prediction scenarios

Efficiency analyses
Accessibility parameter
Capacity parameter
Conformity assessment from the view of urban development and transport policy

Preferred concept
Efficiency analysis
Economic analysis

Action plan
Public streets
Parking facilities
Short-term parkers
Long-term parkers
Residents
Commercial traffic
Parking space management
Evolution of the parking space offer
Parking guidance system

Implementation concept
Immediate and short-term actions
Medium-term actions
Long-term actions
Singular actions
Chain actions
Definition of priorities

Cost and funding plan
Cost estimation
Sponsors of actions
Funding sources

Public relations
Working group "concept preparation"
Project group "concept implementation"
Informing the public
Participation of persons concerned
Videoclip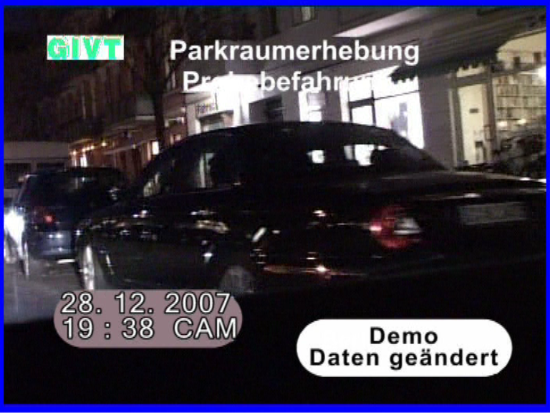 Example for inspecting the parking space by using a video-equipped car