Mechanized and automated parking systems are mainly used if sufficient space is not available to create the number of required or desired parking spaces.
In order to use the available space effectively, mechanized and automated parking systems are designed only for the respective vehicle dimensions plus an additional reserve. Mechanized and automated parking systems require driver briefings and as safe and intuitive user guidance as possible. This is why mechanized and automated parking systems are primarily used for set groups of users - public use of these systems is rare in Germany. If required, competent assistance (car park attendant, car park caretaker, help desk, etc.) must be available.
Mechanized parking systems


The parking process in mechanized parking systems is done with mechanic aid. Frequently applied systems:
Parking lifts
(Double-parking, parking lifts, subterranean parking)
This solution accommodates 2-3 cars dependent or independent on the footprint of just one vehicle. Despite the complexity, parking lifts with horizontal platforms should be preferred to tilted platforms as it is easier for drivers to pull in (so called tilted parking).

Simple double-parking system for dependant parking – convenient only in some cases, e.g. for long-term parking of cars being used only seasonally or vintage cars.

Double-parking with horizontal platforms (parking lift) accommodating 2 vehicles on top of each other for independent retrieval.
Tilted platforms enable tight parking - however, user-friendliness is greatly diminished and vehicles with low rear can only be accommodated on the top platform.

Parking lift accommodating 2 vehicles below ground and another one on ground-level if required, e.g. for backyards.
Shifting palettes
Mechanical platforms are used for back-to-back parking in parking systems with broad aisles for a better utilization of space available.

Shifting palettes to create additional parking spaces within aisles of parking garages (left) or for back-to-back parking (right).
Further mechanical appliances to facilitate parking especially when parking space is tight are turntables, car lifts and other mechanical parking appliances

Examples: parking garage with turntable for rotating cars with a tight angle of 180 degrees (left), shifting palettes to facilitate access to small single garages (middle and right).
Semi-automated parking systems
Mechanized and automatic parking systems cannot be precisely distinguished from each other. With the so-called semi-automated group of parking systems a part of the parking process is done with mechanical help in a process sequence consisting of at least two conveyor operations. A separate transfer cabin does not exist. The driver pulls the vehicle directly onto the parking palette, the subsequent lifting and shifting processes take place automatically.
Examples of semi-automated systems include:
Parking lifts with shifting palettes
Parking lifts with shifting palettes use palettes with horizontal doorways; palettes are laterally moveable. Palettes above and below are vertically retrievable to the doorway, thus the doorway must include an empty space. Parking is done through the vertical grid of the parking levels.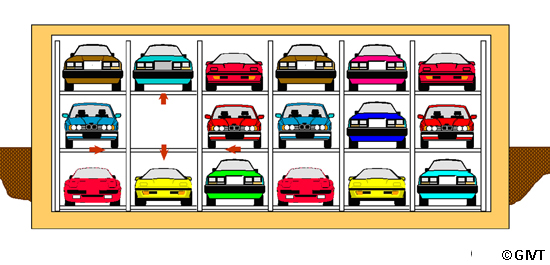 Parking lifts with shifting palettes (6x3 grid = 17 parking spaces/ 1 empty parking space
Parking systems with features of automated parking systems but without a transfer cabin
Automated parking systems
Automated parking systems are parking systems with conveyor facilities; a vehicle is parked into a transfer cabin by using its own engine power and is then shifted with a conveyor unit into a storage cabin (parking space, parking shelve). The following parking process takes place automatically.

Storage is carried out either statically or dynamically. If the storage process is static, the parked vehicle remains on its place for the whole time of parking. If it is dynamic, the vehicle could be shifted when other cars need to be parked.

The following main groups of automated parking systems exist:

Parking shelves
Parking shelves are automated parking systems which mainly follow static storage principles, where parked cars are shifted into a parking shelf by means of conveyor facilities. The control of the lifting and shifting process happens automatically. The transport of the vehicles is done via different aisles and stacks which are situated next to the parking spaces.
Parking shelves exist mostly in the design of high-rise stacks with operating unit (storage and retrieval unit), parking systems with shuttle-lift technology or tower systems with rectangular or circular layout and central, vertical conveyor. Usually, one to three vehicles are parked in line. Depending on the layout of the system, parking spaces are arranged either parallel, at right angles, radial or tangential to the aisles or elevator shaft.


Parking shelf with storage and retrieval unit and turntable in the transfer cabin

Animation Shuttle-Lift-System

Manifold base areas can be set up with parking shelves. However, not every combination makes sense and is possible, and within a project only directly system-related configurations should be selected

In vertical parking shelves with only one parking aisle, the cars that are to be parked are stored in the parking space directly next to the vertical conveyor after being transferred to the respective parking level. This below-and above ground system enables efficient use of the available space and can also be used in a modular way.

Different parking shelves in tower, stack and mixed design with central conveyor and direct access and up to triple deep storage

Animation of vertically parking shelf with turning platform for car dealers

Parking shelves can be designed with or without palettes. In systems using palettes, the vehicle is parked directly on the palette. To enhance the logistics of parking and retrieval of empty palettes, different solutions are available according do size and concept of the system (palette changer/ storage). Alternatively, there are systems without palettes, which eliminate the handling of empty palettes. As technical solutions the comb system, various roller-grasping systems and conveyor-belt systems are common, for example.

Cycle moving parking system (palette shifting system)
Cycle moving parking systems utilize a dynamic storage principle, where palettes need to be shifted partially or completely within the system to retrieve an empty pallet or a vehicle that is to be pulled out to the transfer cabin. In this case, several palettes need to be shifted most of the time. Parking palettes are either shifted separately or on block within the parking deck or separately between connected levels or aisles.



Vertically cycle moving system with 4 levels and drive-through transfer cabin

Horizontally cycle moving system with 2 levels and turntable in the transfer cabin.

Animation of vertically cycle moving parking system

Continous circulating parking systems (Mary-go-round)
Meanwhile, continous circulating parking systems (horizontal elevators) have been replaced by shifting systems for new facilities built in Germany. Vehicle parking systems in the design of vertical elevators have been rather uncommon in Germany, the reason being the fact that high loads must be shifted which requires complex mechanical constructions.

Cycle moving system (horizontal elevator); example with additional vertical conveyor unit and transfer cabin mostly provided with driveway platform and without extra transfer cabin (should be classified as semi-automated system).
Further information
More on automated parking systems
Residential automated below-ground parking garage Munich, Donnersbergerstraße